Bohemian Jewelry is the art of layering your jewelry into your own personal work of art. More is defintely more so combine bold statement pieces and style your bohemian look like you never seen it before!
When we think of bohemian Jewelry, we think of a bold combination of colourful key bohemian Jewelry items, Jewelry that should be seen or better yet, Jewelry you cannot miss. Jewelry is a perfect way to finish off your style and make your look completely personal. It can take your look to a completely new level and create a style icon worthy ensemble.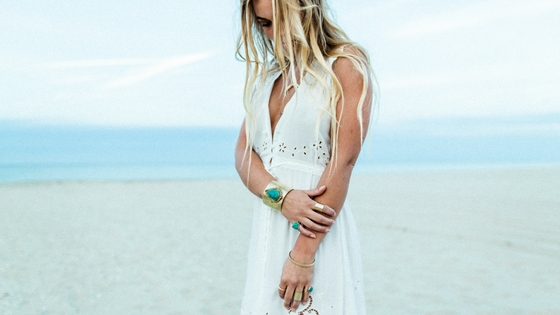 featuring Gold Skye Ring, hexagon Aria ring and Sheila Bracelet, all with turquoise gemstone. And our Luna bracelet, sheila and goldie ring.
More is more, so layer up your Jewelry!
Bohemian Jewelry is all about layering your fav items. There is no good or bad with this, be creative and wear 8 rings across your 10 fingers. Wear multiple bracelets and finish it up with a couple of necklaces. The time of less is more is definitely over when it comes to bohemian Jewelry. If you prefer gold, go for gold plated – the gold colour will make your skin warmer. Do you prefer silver, there is tons of amazing antique silver available which you can match all you like.
Our Bohemian Jewelry Collection
We have a couple of key items in our collection which are perfect to style your bohemian Jewelry party. If you love big statement rings, have a look at our Delilah Rings with gold plate and Aurora rings in silver. Both come with rainbow moonstone and turquoise gemstone and have a size of approx. 3cm's long. If you love your Jewelry a tiny bit smaller, our Ruby ring with rainbow moonstone is our favourite. Combine this ring with your bold Sheila ring and Sheila with matching teardrop moonstone gemstone and you will have bohemian bliss around your fingers.
The Brand Route508
The brand Route508 is built on a foundation of adventure, freedom and fun. We are dreamers, wanderers and like to break free of the everyday mundane. We offer a high-quality range of bohemian inspired Jewelry, with a mixture of bold, intricate and whimsical designs. All our jewelry are handcrafted in Bali and we are proud of the love and attention to detail that goes into our jewelry. We embrace our imperfections, making each of our jewelry pieces just as unique as you & me.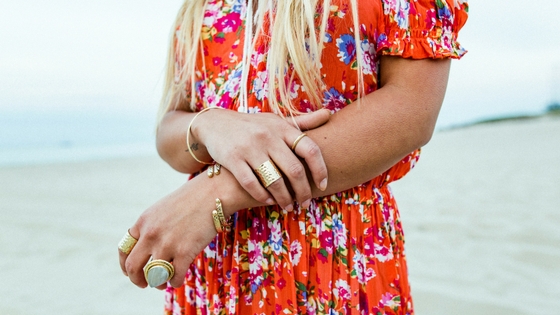 featuring our gold plated Delilah Ring with Rainbow Moonstone, Sheila Ring, Goldie Ring and Luna Bracelet.
Layering Necklaces Extravaganza
The art of layering is easy to master. The brand Keijwelry almost invented this art, making it easy to get your bohemian jewelry style spot on. Check out our last layering necklaces as they offer a range of different sized necklaces. You can DIY this at home too, making your necklaces different lengts. Wear one almost like choker high on your neck, layer one necklace a five centimeters below and another a bit lower there too. Style your look off with a few bracelets and a few statement ring pieces and there you go!
But above all, jewelry is a great way to feel unique – this also means that is should feel like you while wearing it. Keep your style close to your heart, try different things and wear where you feel most comfortable with. Be the best you can be and love yourself for it.
xo Alex
^route508.com